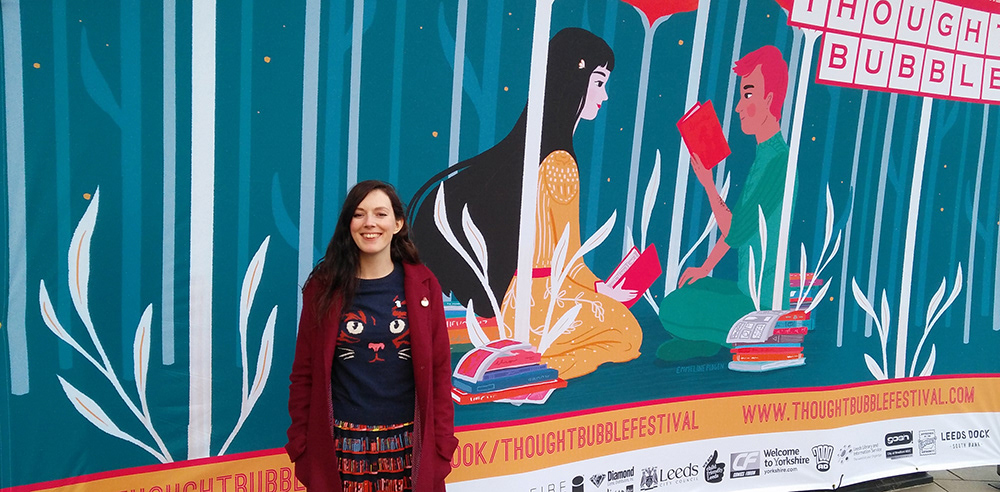 Emmeline Pidgen is an award-winning illustrator creating picture books, comics, advertising and editorial illustration from a cosy studio in the North West of England. Emmeline's work specialises in narrative illustration, a strong use of character, and a bold colour palette; using a combination of both digital and traditional media.
Since graduating from University College Falmouth's BA (Hons) Illustration degree in 2010, Emmeline's worked with commercial and publishing clients such as Tesco, Egmont Publishing and Thought Bubble Comics Festival; exhibited internationally; and has been featured in the likes of The Guardian, Stylist Magazine and The Telegraph. You'll also find her illustration products stocked in the likes of Waterstones, Urban Outfitters, and The V&A!
Emmeline runs workshops and guest lectures for all ages on illustration, the creative industries, and working as a freelancer; leading to Emmeline being awarded IPSE's 'National Freelancer of the Year' last year. 

Emmeline also writes guides on freelancing and the creative industries, illustration process posts, and runs illustrated projects on her blog 'Emmeline Illustration'. Her 'What Emmeline Wore' series of daily outfit illustrations ended with over 100k views in a month and collaborations with brands like Fat Face, Oasis, Laura Ashley and Clarks last year.
Emmeline is currently working on her debut author-illustrated picture book and graphic novel, and is lined up to appear as a guest at Macc-Pow, The Lakes International Comic Art Festival and London Film and Comic Con, as well as Thought Bubble Comic Art Festival this year.
​​​​​​​
Get in touch about commissions, live drawing events, workshops or anything else at -
hello@emmelineillustration.com
 or via the contact form at the bottom of this page!

The Ocean Book
2015 - Far Far Away Books
The Lavender Blue Dress
2014 - Aidan Moffat & Cargo Publishing
One More Candle
2013 - Twelve Elves Publishing
Snapped By Sam
2013 - Octopus Group Publising
Sylvester and the New Year
2012 - Far Far Away Books
The Flyaway Blanket
2011 - Magination Press

Shortlisted - 2016 Bridgeman Studio Awards
Winner - 2016 IPSE Freelancer of the Year Award
Finalist - 2015 Bloggers Lounge Awards 'Unique Blogger Of The Year'
Finalist (Joint Winner) - 2015 Small Business Saturday 100
Finalist - 2015 E3 Awards Corporate Social Responsibility Award (workshops & charity).
Winner - 2014 'Best Arts and Culture Blog'​ Blog North Awards
Finalist - 2014 IPSE 15 for 15 Top UK Freelancers Award
Finalist - 2013 Design Week Rising Star Award
Gold Winner – 2012 Mom's Choice Award for picture books - 'The Flyaway Blanket'​
Joint Winner – 2012 LMNOP studios 'Self-Motivation'​ risograph calendar competition.
Winner – 2011 All Tropical T-Shirt Design competition.
Shortlisted – 2011 Norwegian Wood poster design competition (Soda Pictures/Don't Panic).
Shortlisted – 2010 Mythic Coastline children's book competition.


2016 - The Lavender Blue Dress Exhibition, Glasgow School Of Art.
2016 - Sound & Vision, Texture, Manchester.
2015 - Bower Bird, Light Grey Art Lab, Minneapolis USA.
2014 – Flight, Soup Kitchen, Manchester.
2013 – Artcrank MCR Bicycle Poster exhibition, 22NQ, Manchester.
2012 – 'The Enchanted Forest', Foyles Bookshop Gallery, London.
2012 – Secret 7" record sleeve cover charity exhibition, London.
2011 – Manchester and Salford Illustrated, Manchester.
2011 – Norwegian Wood winner's poster exhibition, Curzon Cinema Soho, London.
2010 – New Designers exhibition, London.
2010 – Falmouth University End of Year Show, Cornwall.
2009 – 'Mushton' illustration exhibition, Falmouth, Cornwall.

2016 - IPSE Magazine interview & feature
2016 - Lancashire Telegraph, June
2016 - Chorley Guardian, June
2015 - The Guardian, 'Small Businesses Feature'
2014 - Creative Review Online, 'Best Christmas Picture Book Picks'
2014 - The Citizen, 'Top Illustrator nominated for two awards'.
2013 – The Scotsman, The Lavender Blue Dress news story.
2012 – The Bookseller Magazine, Sylvester and the New Year.
2012 – The Telegraph Christmas Gift Guide, Sylvester and the New Year.
2012 – Stylist Magazine Christmas Gift Guide, Sylvester and the New Year.
2012 – Flow Magazine, Illustrated phone cover feature.