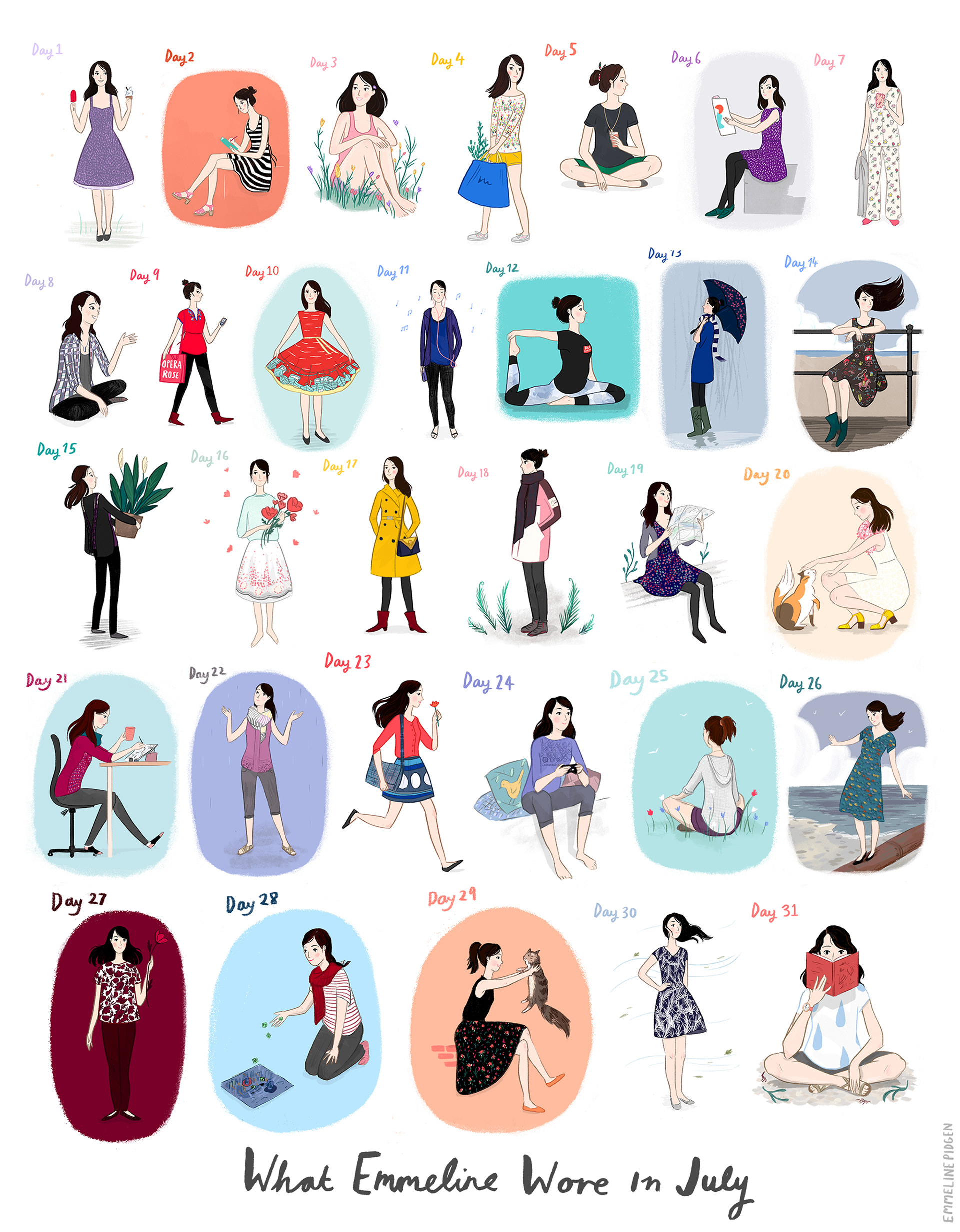 In July 2015, I challenged myself to illustrate my outfit for each day of the month. Here,

f

inally

, is the full collection of What Emmeline Wore In July illustrations! It's been a busy month juggling this project with my other illustration work, but it's been so very worth it.
he core idea of this project was for me to get into the routine of creating every day, improve my drawing skills, have a little fun and a break from focusing on the admin side of my business and get back down to the raw creativity. 
As the posts gained momentum I started getting so many of my favourite brands looking to support the project and excitedly sharing the illustrations on social media, it's been amazing! So I want to say a big thank you to all the companies that got involved and supported the project:  Boden, Clarks, Cath Kidston, Moheda, White Stuff, Wolf & Moon, Laura Ashley, People Tree, Shore Projects, Seasalt and Poppy England - it's been really fun to connect and work with so many people and companies I admire.
I'm a huge advocate of daily illustration challenges, not just for the promotion, but for the personal development of both your style and sense of creative self. Drawing each day pushes that learning curve straight up and really forces you to step outside your 'go-to' drawing options. Practising poses, weighting, expression and movement each day can have such a brilliant effect on your work and understanding of the way you create. I'm hoping to run a Winter edition of this project around the start of next year, so bring on the hats and scarves!
I'm so chuffed to see the project has had well over 75,000 views, along with a hefty bundle of likes and shares soaring into the thousands, it really means so much to have you guys supporting me and my work through this jungle of an industry!
You can see each of the outfits in more detail below, or if you'd like to see them with a little more backstory, links and photos of the real items of clothing head over to my blog at 
www.emmelineillustration.blogspot.com.